Tuskegee Top Gun
The United States Air Force held their "First Ever" Weapons Meet at Las Vegas Air Force Base, Nevada on 2 May 1949. The famous 332nd Fighter Group Team, of Captain Alva Temple, 1st Lieutenant Harry Stewart, 1st Lieutenant James Harvey and alternate pilot 1st Lieutenant Halbert Alexander won the Competition. However, the 332nd Fighter Group was never recognized as the "Winner" until April 1995. Forty-Six years after winning the Weapons Meet.
Here is a "Brief" about each of the the 332nd Fighter Group Weapons Meet Team members and their Military Rank at the time of the Top Gun Competition in May 1949.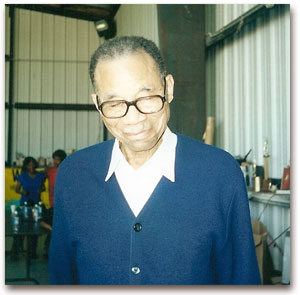 Captain Alva Temple was born in Carrollton, Alabama and studied Agricultural Education at Alabama A & M University. After college he went into the Army Air Corp and then to Tuskegee for Pilot Training. He graduated in class 43-G and subsequently assigned to the 99th Pursuit Squadron. He completed 120 Combat Missions over Europe. Alva retired from the USAF with a rank of Lieutenant Colonel and owned his own business for years and died 28 August 2004 at the age of 86.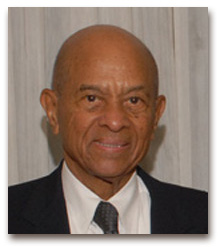 First Lieutenant Harry Stewart was born in Newport News, Virginia and had a fascination with aviation. At the age of 17 and aware that he might be drafted into the Army, Harry took a Military Exam designated to identify potential pilots. He passed the exam and entered Flight Training at Tuskegee, Alabama. Harry graduated in class 44-F and subsequently assigned to the 332nd Fighter Group. On 1 April 1945, Harry shot down three ME 109 German Aircraft and was awarded the Distinguished Flying Cross.. He received an Honorable discharge in 1950 and stayed in the reserves and retired as a Lieutenant Colonel. Stewart attended the Evening Division of NYU's College of Engineering, earning a Bachelors Degree in 1963. He served as President of the Student Council and Chair of the American Society of Mechanical Engineering. In 1976, Harry joined ANR Pipeline Company in Detroit as Vice President. In 2005 he was asked by the Historical Museum in Detroit to serve as a Pilot of their three Motor Gliders. In a short time he acquired a Commercial Glider Pilots License. He currently lives in Bloomfield Hills, Michigan with his wife Delphine.
First Lieutenant James H Harvey III, you have read about throughout this website. Therefore, you should have some knowledge about him.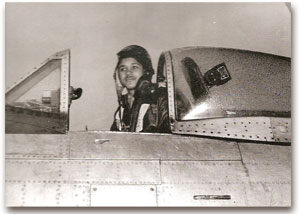 First Lieutenant Halbert Alexander (alternate pilot) graduated in Tuskegee class 44-I, 20 November 1944. He was eventually assigned to the 99th Fighter Squadron. I lost track of Halbert after the 332nd Fighter Group was disbanded. However, he was killed in an F-86 Aircraft accident over one of the New England States.
Staff Sergeant Buford Johnson was born on 30 August 1927 in Longview, Texas. He spent his adolescence growing up in Shilo, Texas. At age 18 Buford was drafted into the Navy, but he had other ideas and enlisted in the Army Air Corp. After completing Basic Training at Sheppard Field Texas, Buford was assigned to the 99th Fighter Squadron of the 477th Composite Group at Godman Field, Kentucky. Buford quickly advanced to the rank of Corporal and within three years attained the rank of Staff Sergeant. The highlight of Buford's association with the famed Tuskegee Airmen came during the later part of April and first part of May 1949 when his P-47N was one of the four aircraft selected to be used in the "First Ever" USAF Gunnery Meet at Las Vegas AFB, Nevada. Representing the 332nd Fighter Group were Captain Alva Temple of the 301st Fighter Squadron, 1st Lieutenant Harry Stewart of the 100th Fighter Squadron, 1st Lieutenant James Harvey of the 99th Fighter Squadron flying Staff Sergeant Buford Johnson's highly maintained P-47N Thunderbolt and alternate pilot 1st Lieutenant Halbert Alexander.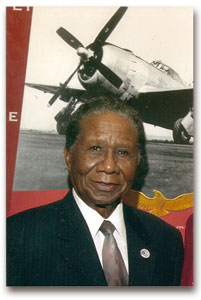 Staff Sergeant Buford Johnson was sent from Lockbourne AFB, Ohio to Itazuke, Air Base, Japan. He was assigned to a P-51 Fighter Squadron and his skills and expertise earned him the privilege to maintain the 80th Fighter Bomber Squadron's first F-80C aircraft, which made him a trailblazer. Also, he was the first African-American jet mechanic and Crew Chief in the United States Air Force and the first African-American Jet Crew Chief to serve in a Combat Zone.
Technical Sergeant Buford Johnson ended his combat tour in Korea on 19 December 1951. In January 1952 he was assigned to the 6520th Test Support Wing, Air Force Cambridge Research Center, Hanscom AFB, Bedford, Massachusetts as an Aircraft Maintenance Supervisor. On 1 April 1953 Technical Sergeant Buford Johnson was promoted to Master Sergeant after Serving seven years in the USAF. Unheard of in the Air Force today.
On 25 July 1956, Master Sergeant Buford Johnson was assigned to the 50th Fighter Bomber Wing in Toul-Rosieres Air Base, France. He reported on 15 August 1956 and assigned to the 417th Fighter Bomber Squadron, Chuck Yeager's Squadron (Red Dorks) flying f-86H aircraft (The Hog). Master Sergeant Buford Johnson's abilities a Flight Chief and Supervisor was reflected by the condition of his assigned aircraft, the state of training of his Crew Chiefs, the amount of flying time that his aircraft logged each month and the high state of moral of his subordinates. On 29 July 1960 Master Sergeant Buford Johnson was assigned to the Air Force Test Center at Edwards Air Force Base, California. By 1961 he was a Senior Master Non Commissioned Officer with other Master Sergeants and Technical Sergeants under his direct leadership. On 21 December 1962, while stationed at Edwards Air Force Base, Master Sergeant Buford Johnson, by direction of the Secretary of the Air Force, was awarded the Air Force Commendation Medal for Meritorious Service while assigned to the 417th Tactical Fighter Squadron.
Master Sergeant Buford Johnson remained at Edwards Air Force Base until July 1965 when he was assigned to Oxnard Air Force Base, California as the Non Commissioned Officer in charge of Maintenance Control, where he remained until his retirement in August 1966 after serving 21 years of Faithful and Conscientious Service to His Country.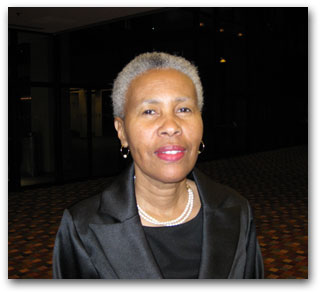 Ms. Zellie Rainey Orr enlightens millions annually to some hitherfore obscured American history. Her ability to research, locate, document and invoke tangible recognition has left an indelible mark via museums, libraries, historical markers, buildings and streets nationwide.
Ms Orr heard that the "Trophy" the 332nd Fighter Group won in May 1949 at the "First Ever" Weapons Meet of the USAF was lost. With her abilities, she found the "Trophy" in six days in the storage area of the Wright Patterson AFB Museum. She asked why it was not on display and she was told, "We get a lot of items and we only display items of importance and this "Trophy" will never be on display. You have to know Ms. Orr. The "Trophy" is on display in the Wright Patterson AFB Museum, after 55 years.
She is the daughter of civil rights veterans, Leonard and Lucille Rainey and mother of two daughters... Kai and Haley. While pursuing a Bachelor's of Arts in Journalism, Zellie studied at Los Angeles City College (a/k/a LACC) and at San Fernando Valley State College in Northridge, CA. At LACC, she was Women's Editor of the "Nite News," the institute's evening division publication.
Zellie is a barrier-breaker having accomplished many "firsts" as one of five black students to desegregate Indianola High School (MS 1967); 1st black Personal Lines Underwriter, Kemper Insurance Co. (CA 1977); 1st black female Personal Lines Underwriter, Commercial Union Insurance Co. (GA 1980); 1st Black Desk-Top Publisher of Windsor Group Insurance Company's 500 page "Billing and Collection Management System" Technical Procedures Manual (GA 1991).
Her contributions and credits appear via televised media (History Channel, etc.), AM/FM and Satellite radio, libraries and museums, books and newspapers throughout the United States and Internationally.
Other recognition and honors include: World Intellectual of 1993, International Biographical Centre of Cambridge, England; Who's Who of The Year (1994); International Who's Who of Professionals (1997); Certificate of Recognition In The Struggle For Human And Civil Rights in Sunflower County, Mississippi (1999); Editor's Choice Award, International Library of Poetry (2000); The National Museum of The Tuskegee Airmen "Distinguished Service Award" (2004); Who's Who in America (2005); The Alva N. Temple Chapter Tuskegee Airmen, Inc. "Distinguished Service & Dedication Award" (2005); Who's Who of American Women (2006); Tuskegee Airmen, Inc. "Presidential Award" (2006); Proclamation Recognizing Zellie Rainey Orr "1967 Mississippi Pioneer of School Desegregation" (2007); Who's Who in the World (2008); 17th Annual Trumpet Awards (2009).
Ms Orr's latest accomplishment, is a book she wrote, published in January 2009, about the Tuskegee Airmen 332nd fighter Group winning the "First Ever" USAF Weapons Meet in May 1949. The title of her book is , "Heroes In War - Heroes At Home". It is a must have item.