2011 Brigadier General Noel F. Parrish Award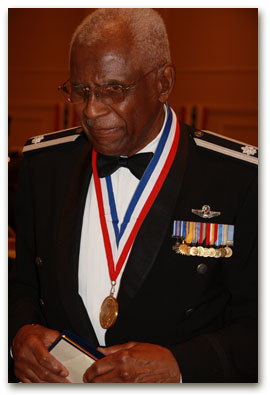 On August 6, 2011, Col. Harvey received the Noel F. Parrish Award, the Tuskegee Airmen's highest honor at the Tuskegee Airmen 40th National Convention. This award recognizes outstanding endeavors to enhance access to knowledge, skills, and opportunities. More than 650 people gathered for the convention with events scheduled throughout the National Capitol Region.
This year's theme, "70 Years of Aviation Excellence: Then, Now, the Future," celebrates the 70th anniversary of the Tuskegee Airmen legacy. Sixty-seven original Tuskegee Airmen registered for the convention; among them was retired Col. Charles E. McGee.
"Because we were segregated, we were together over a long time, so some life-long friendships have come out of that experience," McGee said.
"The reality of human behavior is that the further in time we get from an event in history, the further it slips from our memory," Gen. Craig R. McKinley said Aug. 5 at the gathering of the group named for the nation's first African-American fighter pilots at National Harbor, Md. "I don't want to see this happen to the legacy of the Tuskegee Airmen."
McKinley concluded, "Those of us who have influence over the younger generation of Americans can encourage them to continue the tradition of American aviation and to follow the Tuskegee Airmen's example of service to our nation above self," he said. "For 70 years, the Tuskegee Airmen have rightfully been hailed as America's heroes. Through the actions we take starting today, we can ensure that their legacy lives -- then, now and in the future."
Of the 997 original Tuskegee Airmen, the coveted Noel Parrish Award has been presented only twenty-three times since 1974.
The award was presented by Mrs. Florence Parrish-St John, the wife of Noel Parrish, our commander at Tuskegee Army Air Field.
for more on 2011 Brigadier General Noel F. Parrish Award
USAF article
McKinley: America must preserve Tuskegee Airmen's legacy
Posted 8/9/2011 Updated 8/11/2011